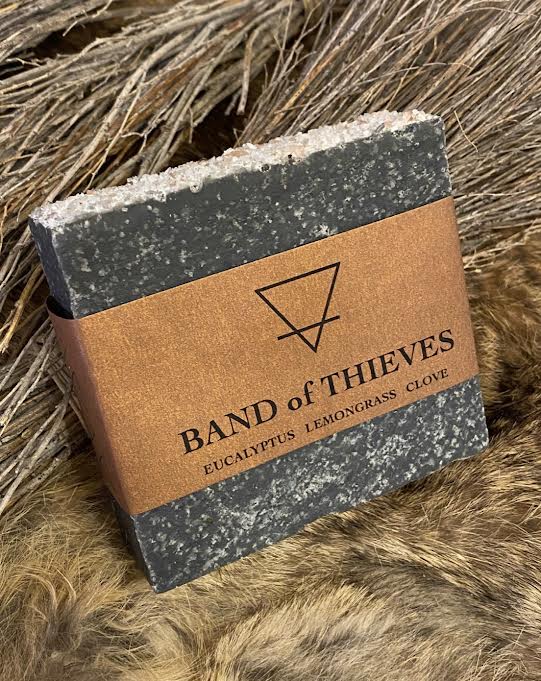 BAND OF THEIVES | Goat's Milk Soap
The ultimate Immunity & Wellness Soap Blend
Centuries before a band of four thieves bargained for their lives with a recipe, spiritual advisors protected themselves from the plague with essential herbs preserved in vinegar. This preparation was consumed internally and doused upon the body and clothing. However, it is the story of the thieves of Marseilles of the 18th century, caught while fleecing the bodies of plague victims for valuables while protected with their herbal blend, which became associated with this potent mixture. Timeless in its ability to both protect and soothe, our proprietary blend of Thieves-inspired oil continues the legacy of essential well-being via a trusted herbal recipe—a recipe worth the lives of its makers.
NOTES: Eucalyptus, Lemongrass, & Clove.
INGREDIENTS: Olive oil, organic coconut oil, distilled water, sodium hydroxide, goat's milk, shea butter, Himalayan salt, charcoal, proprietary blend of organic essential oils.
INSTRUCTIONS: Lather with warm water and rinse. To prevent soap from softening, store in a soap dish that drains away standing water.
4 oz
Handmade in the USA
The Maker:
Magic Fairy Candles are PURE | COLORADO SMALL BATCH | AROMATICS Crafted with intention. Their products are devotion to quality, unified with love for the human experience. "We just want you to know we love you."
BAND OF THEIVES | Goat's Milk Soap