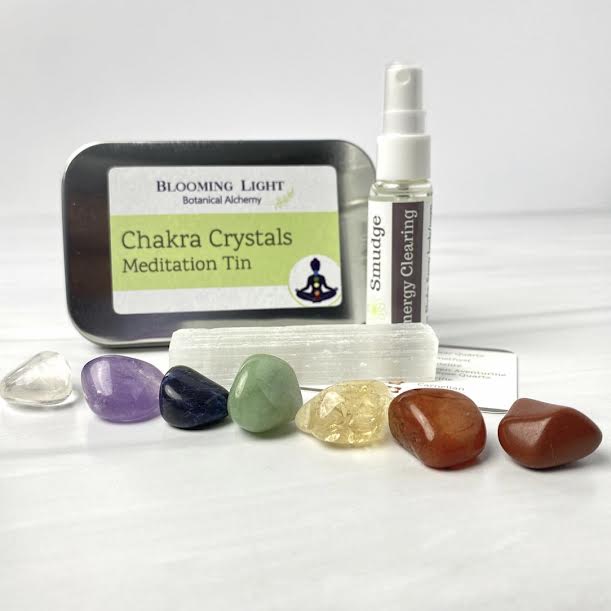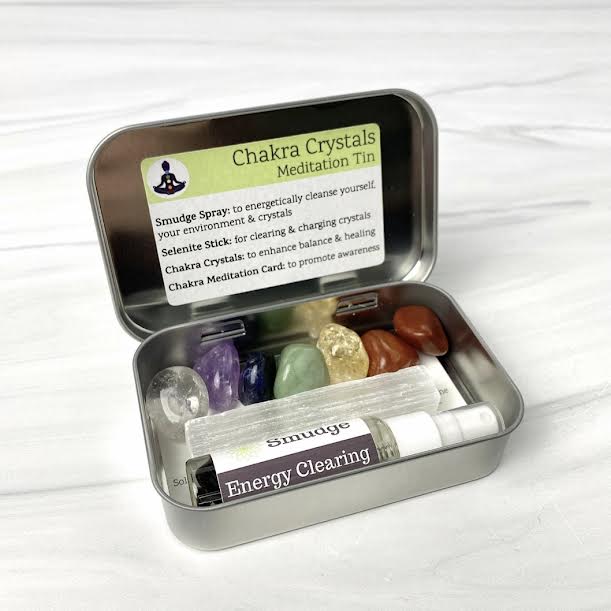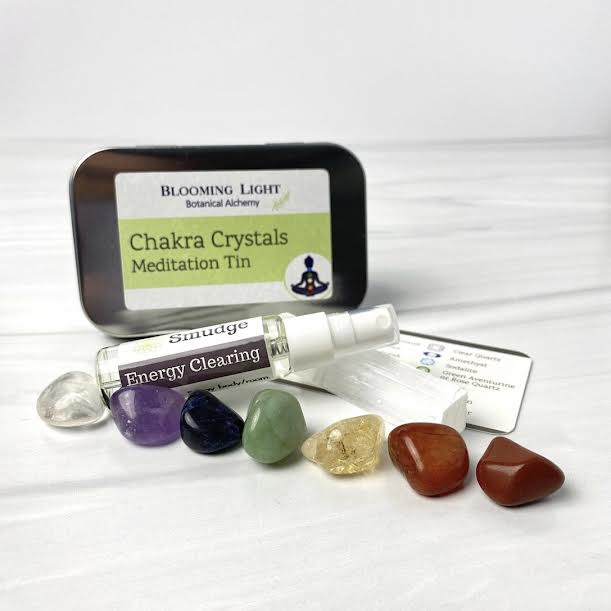 Chakra Crystals | Meditation Tin
A great addition to any meditation or yoga practice!
Each crystal corresponds to a specific chakra helping to create energetic balance and chakra health:
Root Chakra - Red Jasper - Stability, Foundation, Action

Sacral Chakra - Carnelian - Creativity, Confidence, Self-Esteem

Solar Plexus Chakra - Citrine: Abundance, Emotional Balance, Chakra Cleanser

Heart Chakra - Green Aventurine - Healing, Abundance, Growth

Throat Chakra - Sodalite - Harmony, Healing. Communication

Third Eye Chakra - Amethyst - Protection, Purification, Spiritual/Divine Connection

Crown Chakra - Clear Quartz - Healing, Enhancing, Amplification
Selenite stick helps to clear away discordant energy
Smudge spray clears and grounds your energetic space.
Smudge Spray ingredients: Purified Water, Polysorbate-20, Disodium EDTA, DMDM Hydantoin, White Sage Essential Oil, Flower Essences, Black Onyx Crystal Chips 

Due to the nature of using pure ingredients, the consistency of the product may change if exposed to varying temperatures. Therefore, to ensure maximum product shelf life, we suggest storing it tightly sealed in a cool, dark place.  
For external use only. Avoid eyes and mucous membranes. Keep out of reach from children and animals. If you are pregnant, have a medical condition, or taking medication, please consult your physician before using any product
*Disclaimer… Products and statements have not been reviewed or approved by the FDA. Please consult a medical professional for any questions regarding your health care.
Dimensions
4" l x 3" w x 1" h
Handmade in the USA
The Maker:
Blooming Light Botanical Alchemy is a small, woman-owned, and operated business. With a mission to make aromatherapy easy by offering natural, therapeutic products to help you overcome or manage your stress. To promote your health & wellbeing, only organic or wild-harvested ingredients are used to create natural and preservative-free products. To provide safe, therapeutic blends, each has been professionally formulated & handcrafted by a certified professional aromatherapist. In addition, the essential oils have been tested for purity to ensure you are receiving the best quality with maximum therapeutic benefit.
Chakra Crystals | Meditation Tin