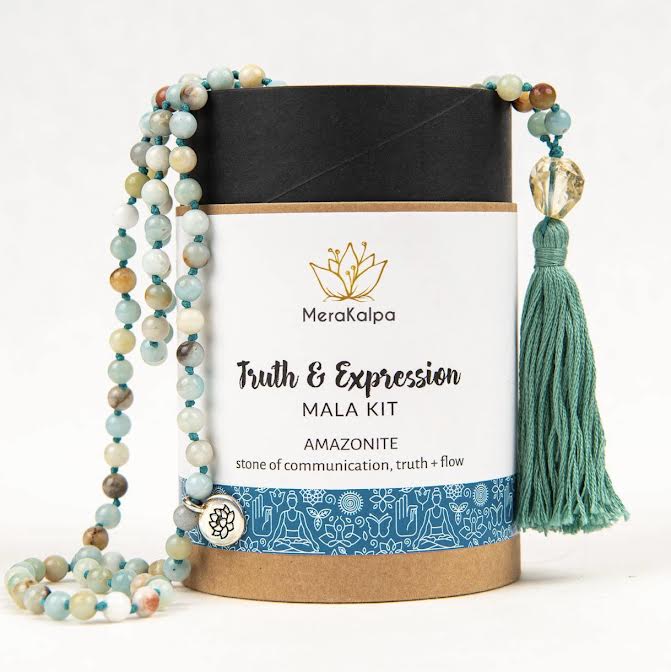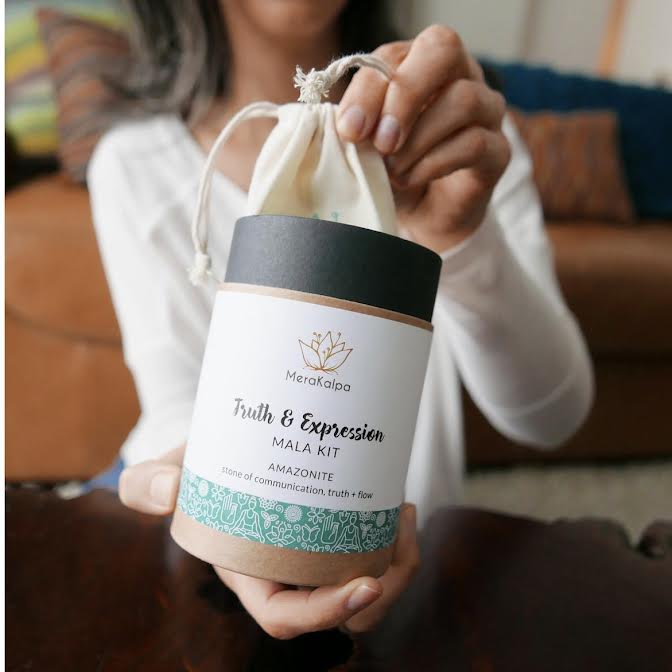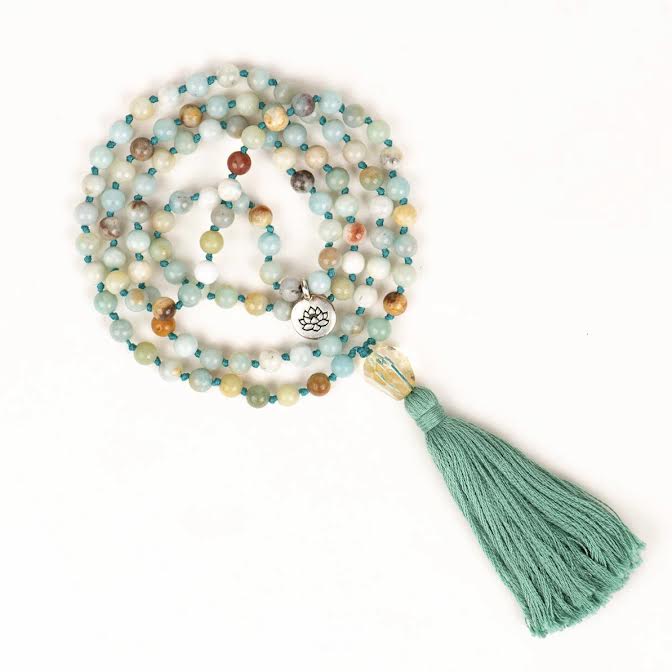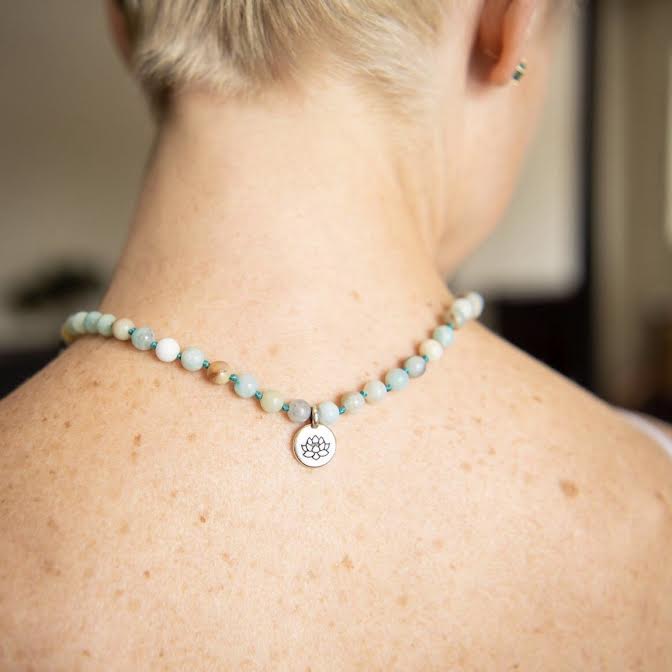 Truth + Expression│Amazonite Mala Necklace Kit
A Beautiful Kit With So Much Meaning!
Speak Your Truth! Amazonite is a calming gemstone that represents the throat chakra + assists in connecting to your highest truth and expressing it to the world.
Amazonite - a stone of communication, truth + flow.
Untie your mind, knot your intention. Set your intentions with every bead you strand, every knot you tie.
Your Mala Kit will come with everything you need to make your own 108 mala necklace. In addition, your finished mala beads will be a beautiful reminder of your positive intentions and personal goals.
The Amazonite Mala Kit includes:
    108 (+ extra) Natural Amazonite mala beads 6mm size

    Nylon Thread & Needle

    Linen bag for storing your mala

    Easy to Follow Video Tutorials

    Jade Cotton for Tassel

    Citrine Guru Bead (Citrine's bright and happy energy fills your spirit with positivity and the highest vibrations; you can more easily connect to your inner light and bring a sense of optimism to your endeavors.)
Handmade in the USA
Mala Beads are more than just pretty necklaces. Each element of a Mala Necklace carries a meaning.
- Malas always have 108 beads. Why 108? I'm so glad you asked! 108 is a sacred number in many religions and cultures. According to traditional Buddhism, 108 represents the number of mortal desires of mankind that one must overcome to achieve Nirvana. Mala Beads are often used as a meditation tool. For this purpose, there are 108 beads so that a mantra can be recited 100 times as you move your fingers along the beads and because it can be hard to count and stay on track, there are 8 extra beads to allow for any mantras that may have been missed.  
- A high-quality mala necklace will have knots hand-tied between each bead. However, some Malas only have the beads strung on a cord or may have spacer beads between the beads to simulate real knots. So why the knots? Knots allow your finger to move easily over each bead when the mala is used for meditation. Second, knots secure your mala beads. Then, if your mala ever breaks, you won't lose all your beads, and you can restring them! Finally, knots allow for the mala to lay gracefully when worn as a necklace.
- The Guru Bead, also called the "Meru Bead," translates to "Mountain Bead." The Guru Bead in your mala is the 109th bead. It is not counted as part of the 108 beads. The Guru Bead is your teacher; it is said to hold your prayers and intentions. When using a Mala for meditation, you start by holding your guru bead and setting your intention for your practice. Then, you would use the mala for your meditation as you breathe or count a mantra over each bead. When you finish your meditation or breathwork, you can "seal" your practice as you rest, holding your guru bead and holding space for your intention.  
- Mala Beads are commonly finished with a tassel, often made of silk or cotton. The tassel represents the connection to spirit or your highest truth. Tassels are not only beautiful and meaningful, but they can also serve a secondary purpose of diffusing your favorite essential oils. For example, diffusing lavender oil on the tassel of the Calm & Peace Mala gives you an additional element of de-stressing. It can help soothe anxiety and calm an overactive mind. 
The Maker:
After making malas for four years, Amanda Jaten, the owner of MeraKalpa Malas, decided to create beautiful and meaningful DIY Kits. In addition, she wanted to share the art of mala-making with others. As a result, MeraKapla Mala Kits were featured in Yoga Journal last year as an "editors must-have!" Since then, she has been sharing the art of mala making worldwide. 
Truth + Expression│Amazonite Mala Necklace Kit