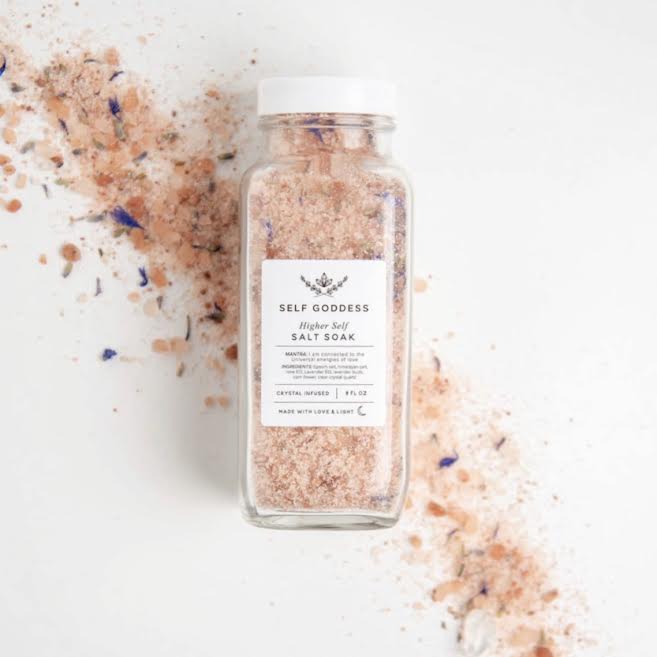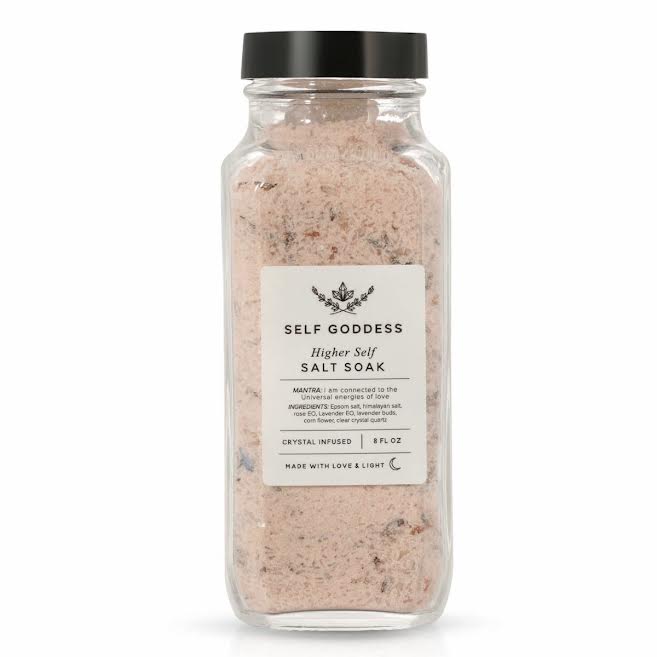 "I Am Connected To The Universal Energies Of Love"
The higher self salt soak is a blend of Himalayan & Epsom salt, with rose, lavender, and clear crystal quartz infusions. The herbal blends, salts, and crystals were specifically crafted to connect you to the essence of your Higher Self.
EPSOM SALT BENEFITS:
- Reduces stress
- Flushes out toxins/heavy metals
- Reduces pain & inflammation
- Increases magnesium levels
- Detoxification properties
- Reduces stress
- Spiritual cleansing
- Aura cleansing
- Cleanses any negative or lower energies that may have attached to you throughout the day

PINK HIMALAYAN SALT BENEFITS:
- Naturally detoxes the body
- Exfoliates skin

ROSE BENEFITS:
-helps maintain skin's pH balance, controls excess oil
-strengthen skin cells and regenerate skin tissues
-has anti-inflammatory properties that can help reduce the reduces of irritated skin, acne, and eczema

LAVENDER BENEFITS:
- Calming and soothing for the skin and your spirit
- Relieves stress & promotes relaxation
- Reduces muscle soreness
- Promotes deep sleep
- Cools itching of rashes
- Anti-septic, anti-bacterial properties

CRYSTAL QUARTZ INFUSED HEALING PROPERTIES:
- Stimulates clarity in thought
- Energizes, activates, & harmonizes all chakras
- Increase spiritual wisdom, insights
- Amplifies energy
- Known as the"Master Healer."

8 fl oz.
Handmade in the USA (with Love and Light!)
The Maker:
Self Goddess provides nourishing tools to support you in your self-love journey. They are a crystal-infused self-love brand that integrates both aromatherapy and healing crystals to stimulate your soul and senses in a transformative way.