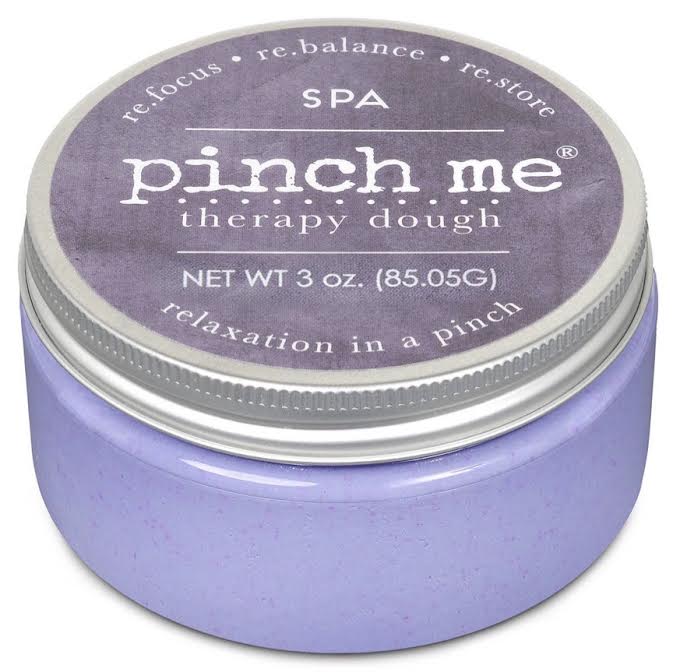 Pinch Me Therapy Dough | Spa
All the tranquility of a day at the spa without the hefty price tag.
Soft and feminine, with just a hint of soothing lavender. Enjoy the lucid aroma of a restful day of pampering. SPA: Because you deserve it.
Wherever you go - Pack the dough! Refocus - Rebalance - Restore - It's relaxation in a Pinch! Because you never know when life will throw you a curveball, keep a container close at hand. Stow it in your tote, purse, or briefcase. Then, pull it out at the first signs of stress and let the calming begin. (As Seen On Shark Tank!)
Meet Pinch Me Therapy Dough - A squishable compound designed to channel relief through the senses, naturally. This placating putty was developed using the proven scientific methodology of color and scent related to relaxation, all in the convenience of a portable tin. Think of it as a handy little mood-shifter. 
Soothing scents - Science has shown us that our minds recall scents, and those recollections evoke emotion. When a pleasant scent speaks to you, it triggers positive feelings. Your blood pressure and heart rate are slow. You're more relaxed. Each of the scents utilized in Pinch Me has been carefully chosen for its pleasantly pacifying properties. Breathe in the relaxation.
Pliant texture - As you massage the dough, your body begins to release tension. Gently applied pressure steadily relaxes the hands as a gradual hush starts to wash over you. This subtle yet clever technique draws you away from feeling stress and prods your mind to focus on relaxation instead.
Materials: Wheat, essential oils, and calming, aromatherapy scents. (If one has a sensitivity with wheat, use with caution). And while it smells divine, it is not food and should not be consumed.
Care: Place dough back in the container with the lid firmly closed when not in use. It can be placed in the fridge to provide cooling relaxation.
Includes: 3 oz of dough 
Ages: 4+
Made in the USA
HEY!
Don't forget to check out the perfect companion for Pinch Me Therapy Dough
This 64-page book offers a guide to molding Pinch Me Therapy Dough into various shapes with their emotional meanings providing an interactive meditation experience. Also, this book stands alone, offering helpful strategies to destress when you may not have your dough.
The Maker:
Nancy Rothner, the creator of 'Pinch Me Therapy Dough,' is a clinical hypnotherapist specializing in stress reduction. Having seen first-hand the toll that tension takes on the body and mind, she embarked on a quest to create a simple, holistic stress reduction technique that could be used anytime, anywhere. A non-prescription, drug-free, as-needed relief supplement that stressed-out souls could use 'in a pinch.'
Today's high-impact lifestyles can take a toll on our precious systems, especially when trying to relieve stress naturally. Pinch Me Therapy Dough is a professionally developed, soft, pliable dough infused with calming aromatherapy to replenish, rejuvenate, and return to the center. Massage between your fingers and feel the stress begin to fade away—a simple, holistic way to take the edge off.
Pinch Me Therapy Dough | Spa