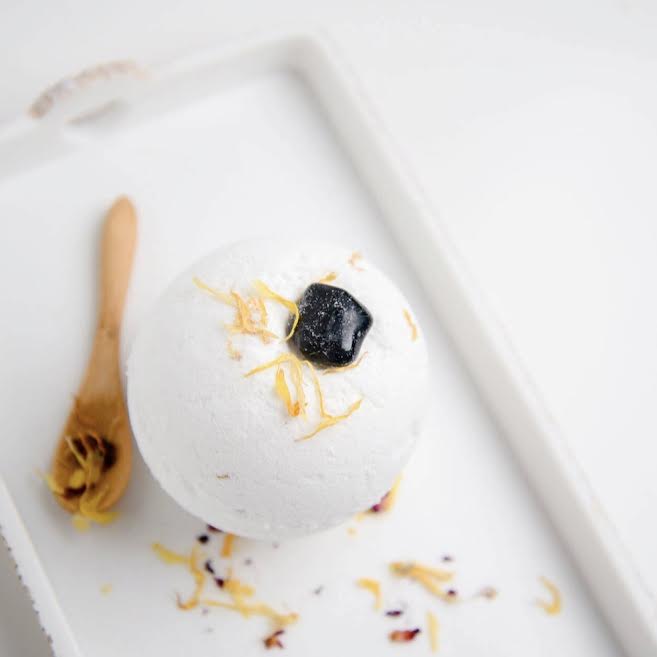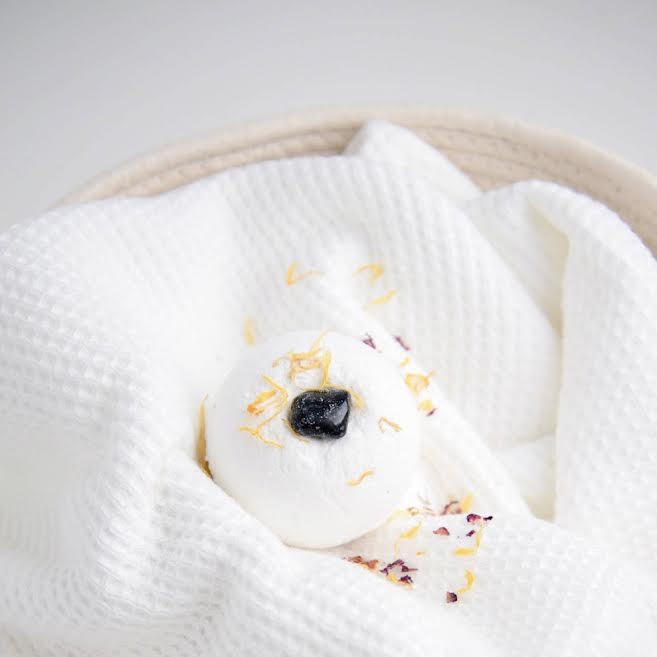 Self Soothe Crystal Bath Bomb
"I am soothing my mind, body, and spirit."

The Self Soothe is a crystal bath bomb promoting a sense of calmness, relieving stress while soothing your muscles. It was inspired to balance the mind, body and spirit hence promoting the ultimate soothing of all aspects of your being.
The therapeutic notes of the sweet eucalyptus and lavender are infused with a tourmaline crystal. The tourmaline healing crystal promotes relaxation, is grounding, provides spiritual protection, and is known as the purification stone.
The calendula petals topped on the bath bomb assist with channeling in positive energies and are also considered the herb of love and master healer.

You can include this in your self-care rituals or gift it to your soul tribe!

• 7oz | Circumference is 9"
• All-natural crystal bath bomb promoting a sense of calmness + balance
• Crystal infused | Tourmaline Crystal infused
• Infused with 528 Hz frequencies
• Made with high vibrations and intention
• Blessed and cleansed with Palo Santo

LAVENDER BENEFITS:
• Calming, healing, soothing for your spirit
• Relieves stress & promotes relaxation
• Promotes deep sleep
• Opens you up for spiritual healing

EUCALYPTUS BENEFITS:
• Promotes relaxation
• Helps clear the mind of unnecessary thoughts
• Soothes and invigorates your senses

TOURMALINE INFUSED HEALING PROPERTIES:
• Transmuting negative energy
• A protective and grounding crystal
• Balancing the right + left hemisphere of the brain
• Relieves stress + calming
• Enhances physical being
• Stone of purification
• It brings Earth energy into the root chakra

INGREDIENTS:
Epsom salt, baking soda, organic citric acid, organic plant-based bubble agent SLSA, organic coconut oil, eucalyptus essential oil, lavender essential oil, water, organic calendula petals

7.5oz | Circumference is 9"

Handmade in the USA
The Maker:
Self Goddess provides nourishing tools to support you in your self-love journey. They are a crystal-infused self-love brand that integrates both aromatherapy and healing crystals to stimulate your soul and senses in a transformative way.
Self Soothe Crystal Bath Bomb