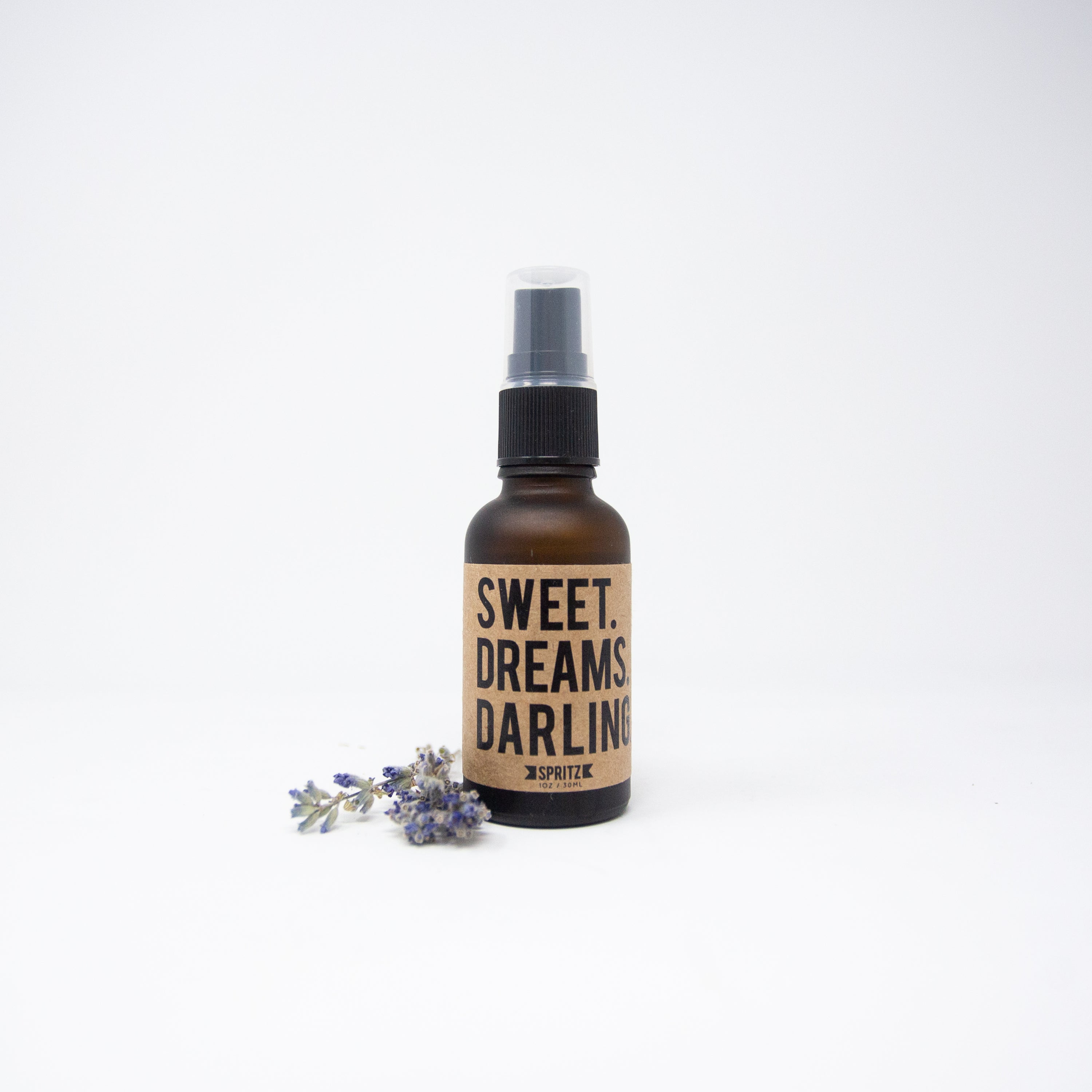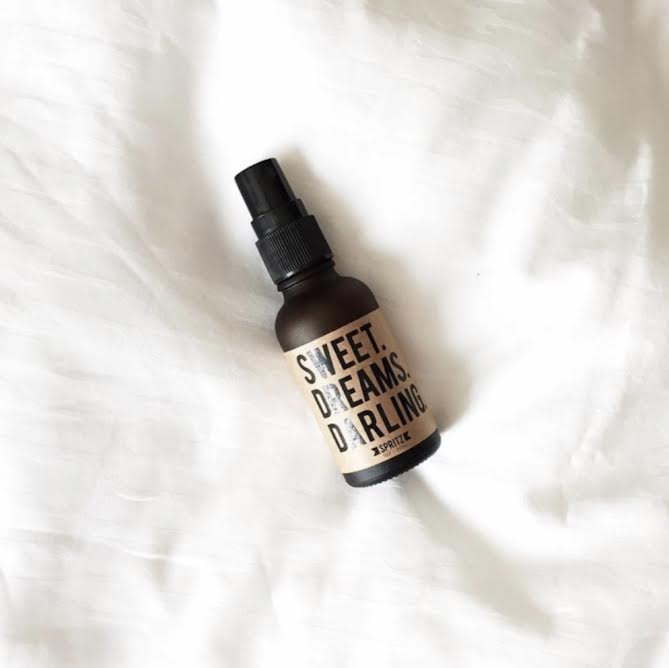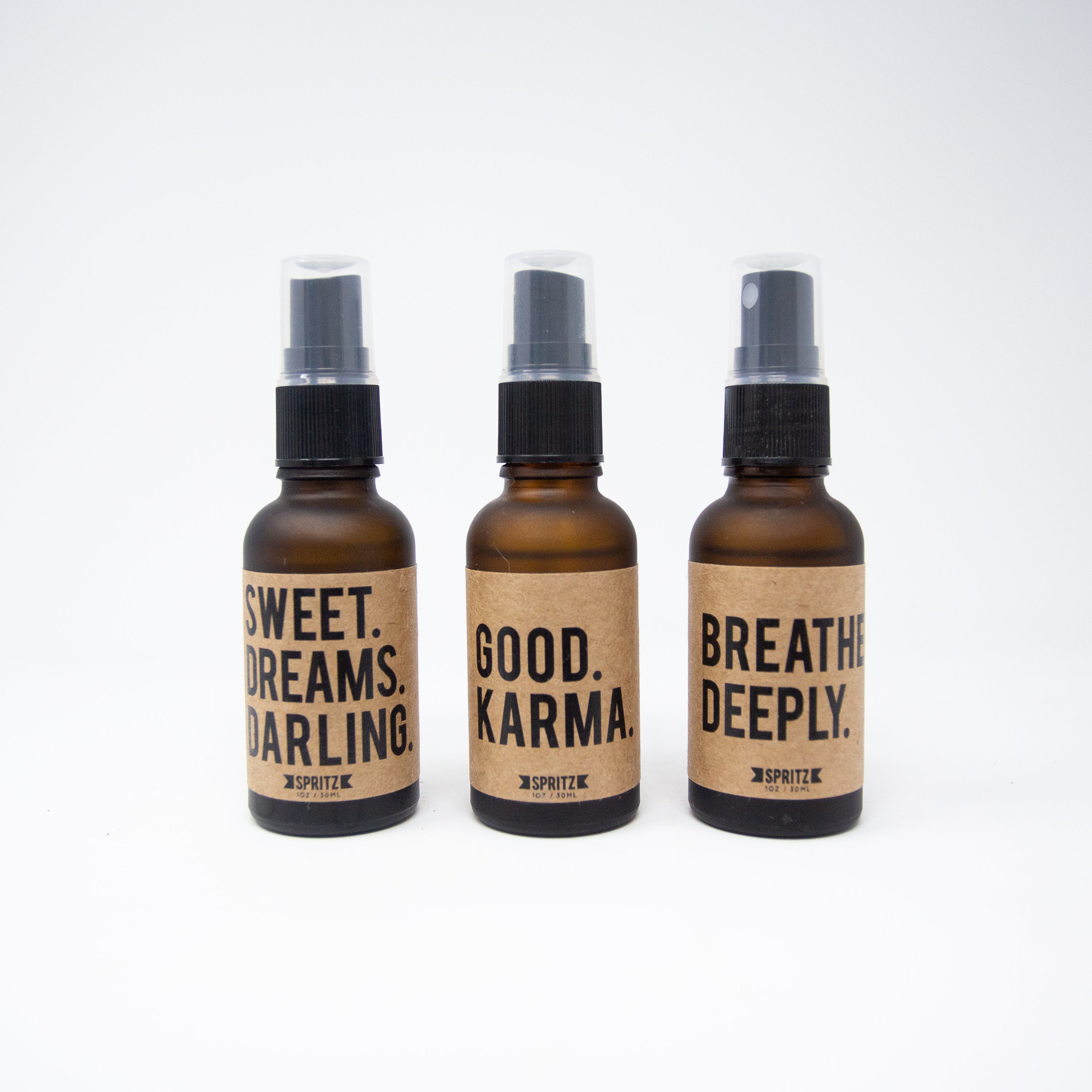 Sweet Dreams Darling | Essential Oil Mini Spray
Say hello to your new favorite sleep spray!
Sweet Dreams Darling® essential oil spray made with lavender and chamomile blend will promote relaxation and restful sleep. So whether you are getting ready to catch zzz's or just needing to calm your nerves while working from home or before a midday meeting, this blend will have you covered.
Sweet Dreams Darling is also great to use for both children + pets. 
For dogs: 1-3 sprays on fido's bed + in the air around the pup will help ease nervousness or separation anxiety.  

For children: 1 spray on linens/pillows before a nap/bed to help soothe + relax and to create a calming bedtime ritual.
Keynotes: lavender essential oil + chamomile essential oil
Benefits: relaxing, calming, balancing, soothing, antibacterial
Ingredients: a proprietary blend of 100% essential oils including lavender, chamomile essential oil, Poly Suga mulse D9 (100% naturally derived emulsifier for blending oils). 
Use: face + body (+linen) mist  *avoid contact with eyes
Size: 1oz/30ml frosted glass amber bottle
Dimensions: 1.3" l x 1.3" w x 4" h
Handmade in the USA
Natural ingredients!
+ 100% vegan + kosher ingredients
+ Recyclable packaging - we always package our liquid Spritz blends in glass, never plastic, which helps preserve the oils + ingredients
+ No alcohol in the essential oil blends, parabens, chemicals, synthetic preservatives, synthetic fragrance, SLS, or phthalates. 
+ No artificial colors, dyes, ingredients, or fillers
+ Cruelty-Free: No animal ingredients (100% Vegan) + no animal testing
+   A portion of all proceeds goes to benefit animal rescue.
The Maker:
Happy Spritz is a collection of luxe + modern essential oil products created for both men + women. Combining the functionality and simplicity behind essential oils with a modern and minimal design aesthetic appeal to the more progressive green beauty consumer. Happy Spritz believes that genuinely natural, cruelty-free, and non-toxic products should be available to everyone.
Sweet Dreams Darling | Essential Oil Mini Spray